"......... well, The Shangs knew about Uncle Lou (Reed), too - in 1973,David Byers was in Simply Saucer,doing versions of "Sister Ray" a la Can. The Shangs also knew about the after midnight mystique of your dad's Julie London albums, the sotto voce appeal of Astrud Gilberto,the creepy soundtrack to "Whatever Happened To Baby Jane?" et al, and about Martha Carson,a towering,flame-haired, Gospel belter who taught Elvis how to move. Yet, this comes from a place that knows all yet stands alone..... sparse and bone chilling....... this is an absolute expression of the genius of the individual........" Bruce (Mole) Mowat, Canadian Music Journalist, Now Magazine, Toronto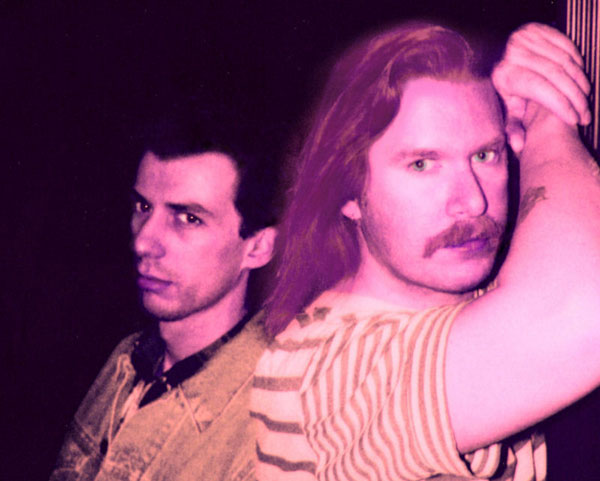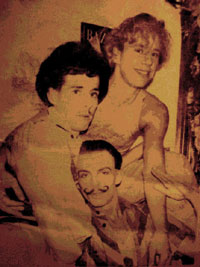 Six months after songwriter and musician David Byers had left Simply Saucer in Oct,1973( see Simply Saucer page), he was invited to a house party in downtown Hamilton,Ontario. And he was encouraged to bring along some records. On the top of his pile was the Shangri-las 2nd LP " I Can Never Go Home Any More". Almost immedietly apon walking into the party he was greeted by Pat O'Neill whose eyes popped out at the sight of the LP. Tall,funny and animated ,he was almost a double for actor,Anthony Perkins.He and David found they had a mutual interest in 60's girl group and surfing sounds and all things kitch. They soon became fast friends. David had gone to art school with talented,up and coming,local artist,Phil Stone and he was surprised to learn that he and Pat were also close friends.Sadly, Phil would die prematurely several years later, never realizing his potential...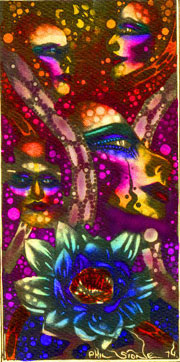 Always on the hunt for something new,eclectic and off beat, Pat and David often scoured LP cutout bins in some of Toronto's legendary record stores (Sam The Record Man). One day in mid 1975 they found the LP, "Livin' Love", by the obscure late 60's,Nashville, all girl band "
The Feminine Complex"
. They were floored and spent more than one all nighter digging deep into the psyche of this unknown, yet talented group of girls. David recalls, " I remember thinking of them as a wonderful cross between Shelly Fabares and the Velvet Underground with a decidedly spooky undercurrent. How accurate that really was, well, I don't know. But Pat and I thought they were the living end".
David had met Pat's younger brother Ed but because of an almost 10 year age difference didn't pay too much notice." He was only in his early teens, quirky, and he didn't hang out with us so we didn't really connect at that time in the 70's". He,says.
By the late 70's, Pat and David had drifted apart and after David had spent part of the summer of 1979 in Denmark with members of the beloved Danish art rock band The Savage Rose, the two didn't reconnect until near the end of the following decade. Now Pat's brother Ed had come into his own and travelled a course through a number of punk inspired garage bands. Yet, he too, had a more complex musical fabric with a love for surreal film scores and lounge/torch singers such as Julie London. Ed recalls, "When Dave and I first hooked up, my influences were underground bands out of NYC and LA as well as different soundtracks from the 50's and 60s. I developed in interest in Julie London when running around New York City while on a summer trip looking for her LPs for my brother and instantly fell in love with her soft breezy style".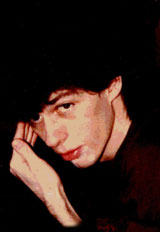 Late in 1989,he and David tossed the idea around to start a band. At first the notion was to play long improvised(Velvet Underground inspired) instrumentals in a live setting. Soon though,they found they could channel alot of their divergent influences into structured songs and lyrics and the focus to play live gigs was pushed into the background. Both musicians had a distain for jamming and practicing. As David observes, "We didn't feel the need or really want to play and play and play. We started writing songs then we would quickly record them on a 4 track machine never to play them again unless the actual song or arrangement need to be tightened up."We used ( and still do use) alot of custom guitar tunings - the thing, I suppose, that gives us our sound.To this day, I can't remember how to play any of our material ....... although we do have the basic structures and chords written down somewhere". Ed adds, "The album was recorded on budget store tapes and were not archived over the years onto a better format and we've lost some of the songs. I remember it was alot of fun to do - there was no preconception about how to record it let alone what we would create for it, thus, I believe we came up with something that was original and unique."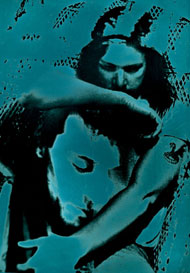 The Shangs 1st CD release was recorded in this manner in the summer and fall of 1990. Delicate bossa nova influenced numbers were interspersed with sonically howling intrumentals utilizing garbage can drums and feedback and strange filmscape vignettes that recalled "Zabriski Point" et el. And too, ethereal, biographical songs such as their ode to Dennis Wilson (Beach Boys) " Dennis" appeared -early examples of what has become somewhat of a Shang's trademark - songs of pop culture tragedy.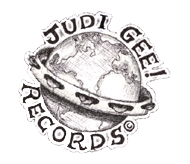 Choosing The Shang's as a name for the band became an obvious choice. It had been a longstanding fan's slang name for the girl group,The Shangri-las and because they were loved so much by David and the O'Neills it seemed second nature.And too, a felgling Indie record company was spawned, christened Judi Gee! records -named for the Feminine Complex's ("mind blowing") tambourinist (and singer and occasional songwriter), Judi Griffith.
Rounding out The Shang's debut and all things Feminine Complex were odes; ( " Queen Mindy","Complex Contemplation") and too, references and observations alluding to the girls of Charles Manson's "family". According to Ed, "My brother and I were interested in Sharon Tate, her life and films and subsequently her death. And the Manson Girls were part of that. They became themes in some of our songs mainly for their sheer weirdness and audacity".
Released in April 1991, " A Little Bit Of Semi Heaven", despite its lowfi leanings and homemade persona, garnered significant critical response in North America. Option called it " earnest indie pop taking a stab at the corporate ogre and striking bone..." College radio responded by charting it squarely among the day's alternative heavyweights.David remembers." Well, it surprised us, We weren't really expecting anything, then before long, important distributors and journalists are contacting us. It certainly gave us the incentive to move forward and flourish..".
Unhappy with the sonic outcome of the debut CD, The Shangs looked around and invested in the state-of the- art digital format of the time DAT (digital audio tape) and their next batch of songs were recorded essentually live. Technical limitations prevented them from layering instruments and limiting them to only a smattering of overdubs. " Longet was recorded onto a two track digital deck and there was no room for indecision - each of the song's sound and mix was final. There was no multi-track master to be able to potentially remix the album", Ed remembers.
However, they found they could channel the resulting sound into one sparse, yet ethereal. They began hoaning and re- inventing theme songs from Hollywood's past ("Johnny Guitar") and their originals brought them closer to true torch/lounge music. "The way we were recording at the time didn't lend itself to cluttered arrangements so we filled in the texture by really paying attention to breathing spaces and reverb. We couldn't layer a song in the traditional recording sense -record one track then overdub. Basically, for better of worse, our second CD was recorded live onto DAT" , says David.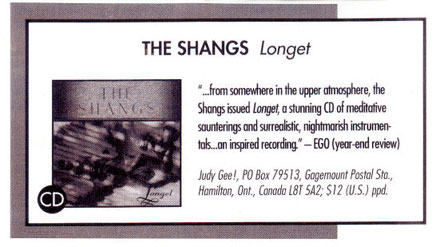 The resulting CD "Longet", never the less was a masterful affair. Packaged in sleek moody graphics, it showcased The Shang's introspective side to the hilt. Although, criticized for lack of "rock" orientated content by some, most reviewers praised the band's flair for understatment: "If ever a disc deserved the title "ethereal" this is it. Here are very atmospheric songs that work well individually while blending seamlessly into the recorded whole. The collective effort here definately makes for an inspired recording **** Eye Magazine Toronto".
New York ambient record company, Cykxincorp, approached the band to loan 4 of Longet's numbers for one of their compilations. The Shang's also made several rare live performances apon the release of the CD. On a local cable access show they performed a selection of songs in a sea of pillared candles. One reviewer observed; "I count myself one of the lucky who attended this gig. The Shangs are a two man guitar-vocals-reverb band who play thoughtful, understated and atmospheric songs that are diffucult to discribe on paper. Combine the intensity of Berlin era Lou Reed with the light touch of The Cowboy Junkies... In the cozy candlelight, Dave Byers' highly reverbed voice took on an ethereal quality. Combined with Ed O'Neill's subtle and tasteful guitar leads, it created an effect that sent shivers down my spine..." Exclaim Magazine.
At the time of "Longet", The Shangs were writing and recording feverishly. New songs such as " No Sweet Man's Worth The Salt Of My Tears" were inspired by the earliest torch and blues from the 1920s. Never -the- less David and Ed were moving into other musical directions and finally felt the limitations of live to DAT recording. Ed recalls,"We needed a new system in which to record, something that would help bridge, "Semi-Heaven" and "Longet",and to bring with it a fuller more complete sound - something that the DAT format we had used could no longer provide us with".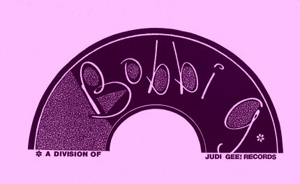 In 1995 With a new resource, ADAT, the digital multi-track recording system, The Shang's found that they could now craft their songs in anyway they pleased and not be restricted to a single vocal and a guitar or two. Claudine Longet, the wonderfully kitch singer and actress had long been an inspiration and now was the subject of a wistful,compelling, tribute song. "Claudine" b/w "Gli Amori Di Stratta" (also a tribute - this time to Ettore Stratta, an Italian mid -century film composer) became the Shang's only vinyl release, a 45rpm, in 1995.
All this creativity and energy was leading to a 3rd long form CD release with the working title, "Motel Darlene".Songs from that era reflect a more realised and popish approach. Numbers such as "The Majik Love Machine" and "Let's Pivot" still imbue the Feminine Complex influence and "Connie Champagne" smacks of the Manson family. A demo cassette of early takes of some of Motel Darlene's proposed songs was circulated in 1998.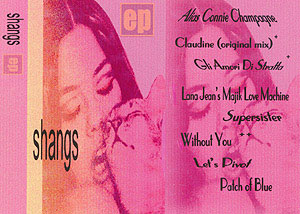 However, for no apparent reason, the proverbial wind in The Shang's sails had ebbed and with it all songwriting and recording activity.David recalls, "I guess Ed and I just didn't know how or which way to move forward at that stage. The music industry, as far as independant artists go anyway, was in a state of flux and new technology was on the horizon that would change the way music was recorded and how it got to the public. We never had a big bust up or such - we just needed to put things aside".
Now, after a 9 year hiatis, the original Shangs; (David Byers and Ed O'Neill) are ready to both revisit past musical accomplishments, and create new, exciting ones in the coming months with an eye toward a long awaited 3rd CD release in 2008.